Justin Furstenfeld's Open Book Winter Tour: A night of story-telling and acoustic music in Ann Arbor, Michigan
Lead singer of Blue October, Justin Furstenfeld, is currently on his solo acoustic tour known as The Open Book Tour. At these shows, he performs stripped down versions of songs new and old from the band's discography. He also shares personal stories and life changing moments. This creates a show that is very vulnerable, emotional, and thought-provoking for the audience. I had a chance to catch up with Justin before the show to ask questions about the tour as well as some of the projects Blue October has in the works!
Q: How long have you been doing the Open Book Tour?
A: 4 and a half years.
Q: At the shows you get really personal and share deep details about your life; is that ever scary to deliver to a room full of strangers?
A: No, not really. It's not scary….actually, it's pretty nice because you can just throw it all out there and when you just admit all of your faults, they either like you or they don't. It's kind of freeing to be able to go: This is who I am and this is my story. I concentrate on trying to feel it as much as I can and not letting anything distract me.
Q: How many songs do you typically play each night?
A: At previous Open Book Tours, I only did 8, but tonight I'm playing about 17- it's CRAY! I'm taking out some stories and putting in new ones. A lot of stories such as how I found sobriety and the divorce, those stay in. But I've put some new ones in there. You are going to love the story of Italian Radio and Drop. I know you and you're gonna be like "this is freaking great!"
Q: What's your favorite song to play at these acoustic shows?
A: Fear because once I get to that, I can stop talking about the sadness and start focusing on the positive…and get back to making jokes.
Q: What does a show day typically look like for you?
A: Roll into the new city at 9 or 10, get coffee, go to radio, go back to the venue, hit the studio on the bus with Eric and work on new songs, hang out with my video guy all day, soundcheck and meet and greet, dinner, play the show, signing and getting to meet more people after the show, then back on the bus to work on more music. It's a good day.
Q: You have Tim Beck out on the road with you right now. Could you tell me a bit about what he's doing?
A: He's tattooing someone on the bus right now! He sets up from noon to seven and tattoos about 7 people a day. It's awesome.
Q: Do fans freak out when they go on the bus?
A: They're pretty cute. They're pretty nervous actually, and quiet. It's because I'll just bust up in there and be my normal crazy self and record new music and they're so thrown off. It's fun though, I get to meet them and they're all so sweet.
Q: You guys just released a new song titled "I Hope You're Happy" and I love it so much!
*Que both of us humming the tune and being super excited about the song*
This one is so different from other material you've released. Where did the inspiration for the new song come from?
A: "I Hope You're Happy" is a reach out to every person I've ever really shared a relationship with. No matter who they are, just to tell them: "life is so short, I really just hope you're happy." Life is so short and there's something you liked about someone when you first got together with them; something you respected, loved and adored. There's a reason you were drawn together in the 1st place and you really do wish the best for them.
Q: As far as the rest of the new album, how is that coming along?
A: This new album is so different…none of it is about me. Which is awesome. It's not about Justin's recovery or Justin's found God, nothing; it is about other people in my life. It's about friends of mine going through troubles, or friends of mine that have found success and love. It's about people we've lost, people we're going to lose this year that we're really close to. I'm so proud of it because it is so different and so out of the box. It's nice to listen to other people these days and about things they're going through.
Q: So- idea of when the new music video might be released?
A: We get it today! It's done today. And we give Vevo a few weeks and then they release it, so it can be expected soon. We just want to make sure everything is perfect and exactly how we want it.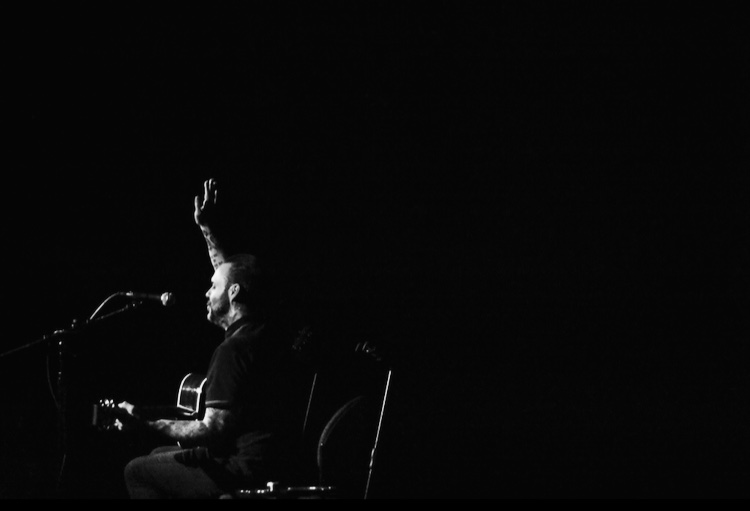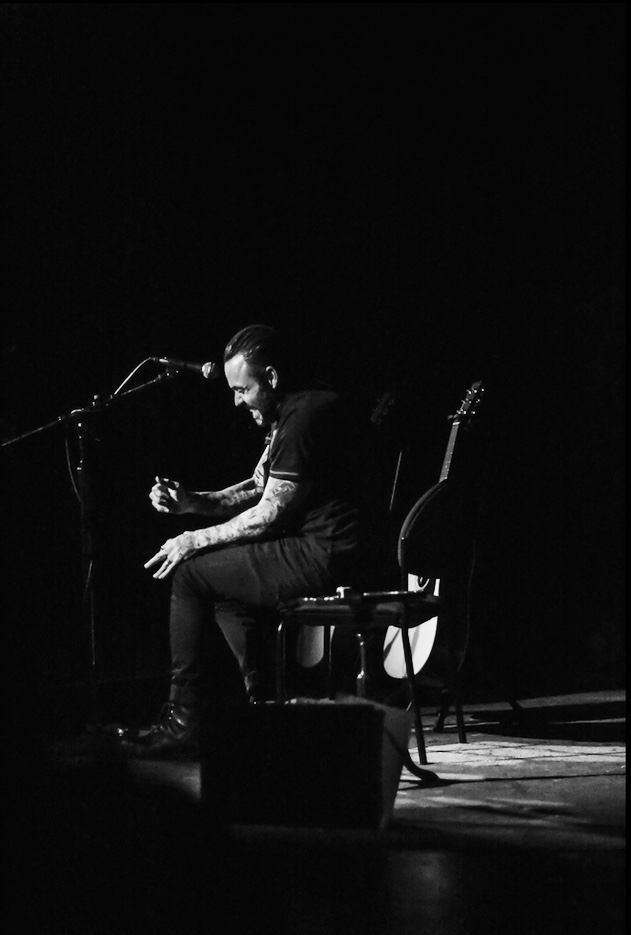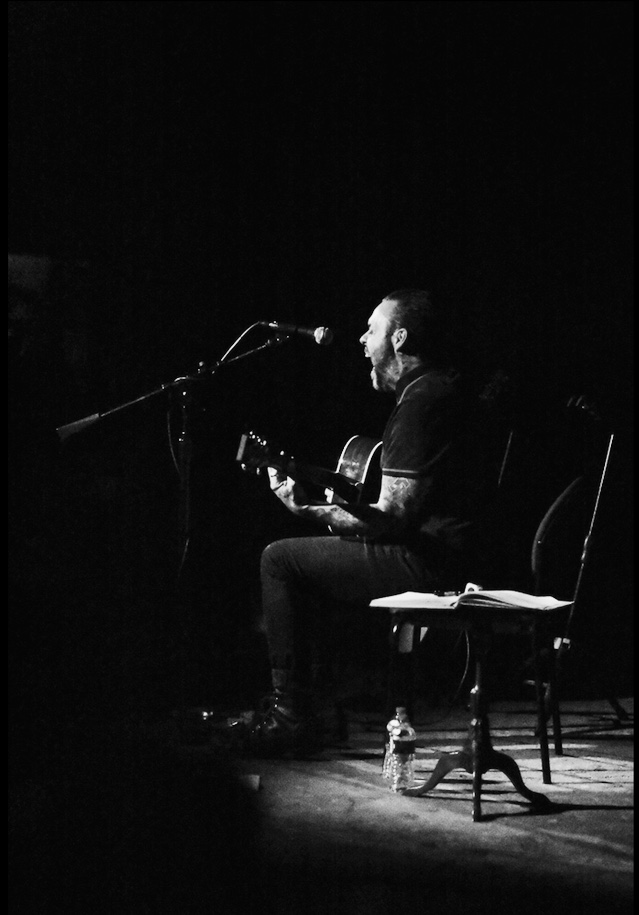 Q: And the new album can be expected early summertime?
A: Yes! Leading up to it, well we released "I Hope You're Happy" then we'll release "King" and then a song called "Come Back Home." I'm really proud of them.
Q: So exciting! I'm so proud of you guys. And the final question has to be a complete random one: What's your favorite word?
A: Bdingching…Bdingching Bdingching Bdingching! Hahaha when I was a little kid I would run around saying that word and singing it in songs and everything. I still say it too. If you ask the guys on the bus about it they'll just roll their eyes. What's great is now I've gotten my younger daughter to say it too. It's fantastic.
Q: hahaha that's great. Thank you so much for your time!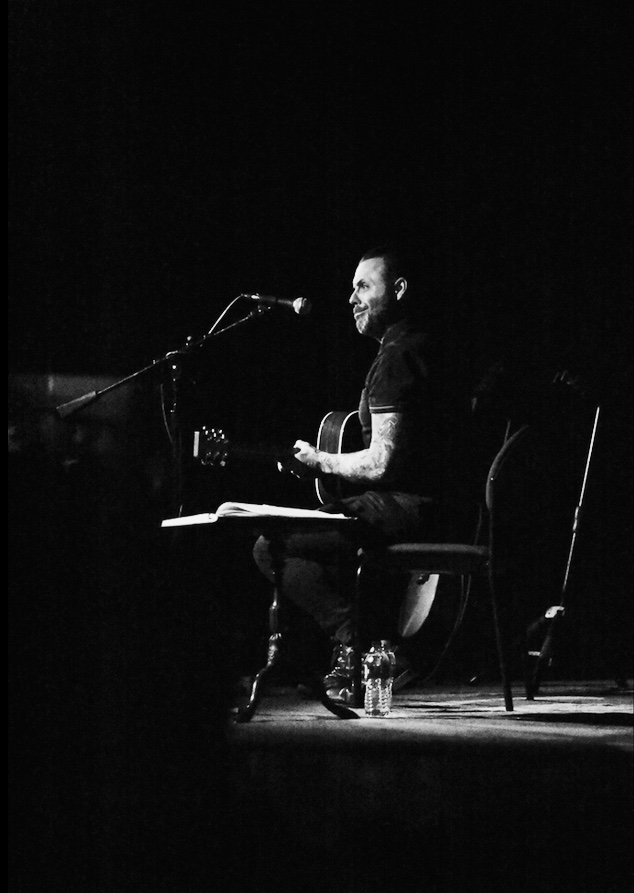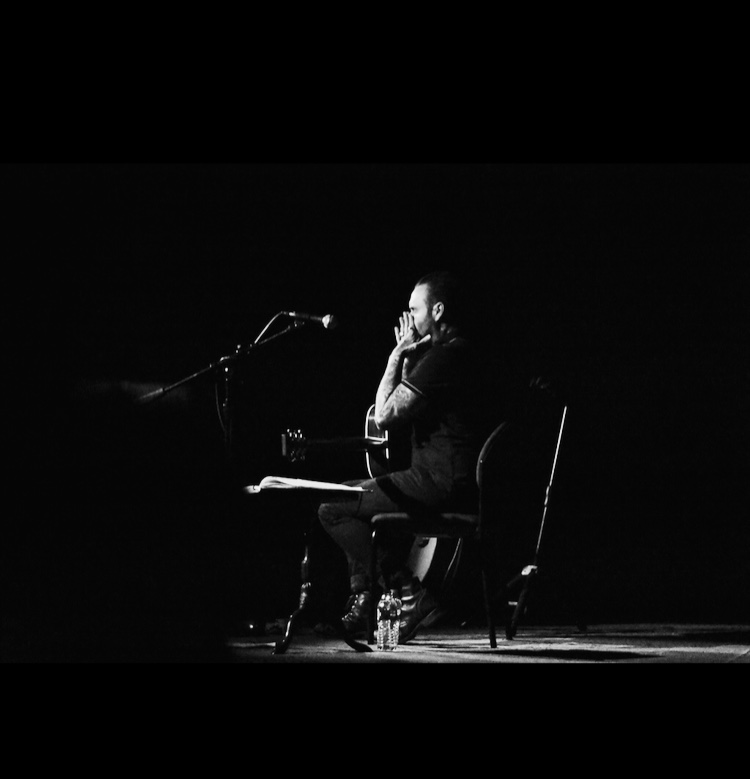 Fans piled in for a sold-out show in Ann Arbor, Michigan last Wednesday evening. Whether you've seen an Open Book show multiple times or it's your first, each time provides a different experience and takeaway. At these shows, Justin Furstenfeld takes you on a journey through his life story. Beginning with him leaving his high school band and starting Blue October with Ryan Delahoussaye, through the low times and ending where he's at now in life: living happy with his family, friends and bandmates.
He has crafted the show so well with a fantastic balance of comedy, emotion and connection. Stories such as the one where he got his first tattoo of an A on his foot (which now stands for accomplishments- ha) always causes an uproar of laughter from the audience. There is not a single sound in the room as he shares about some of his darkest times through custody battles and substance abuse. This leads into the point of his life where he gets sober thanks to his wife, family and the rest of the band. He recounts how he finally found his higher power after 74 days in rehab and when he shares this beautiful moment, the audience's breath is taken away. He has now been sober for 5 and a half years and "enjoys life and adores every ounce of it." He sings "Fear" following his sobriety story and there is not a dry eye in the crowd when he is finished with this powerful performance.
The change Justin has gone through is inspiring to many and will continue to be. Blue October's albums "Sway" and "Home" have reflected that change; radiating positivity, celebrating their families, and uplifting others. It is so exciting to see where they will go from here, especially with the new album!
The Open Book Winter Tour continues through February 18th. So, if he has a show in a city near you, make sure to attend for a great night of story-telling and acoustic songs from Justin Furstenfeld.
Coverage by Mia Naome
Images may not be used, modified, or cropped without permission from Mia Naome or SoundBite Magazine. Please contact Mia Naome or SoundBite Magazine for use of photography.
For upcoming events and artists features, follow SoundBite Magazine on Instagram, Twitter, Facebook, and YouTube. If you would like to be feature your event, art, music, or company on SoundBite Magazine, please contact soundbitemag@gmail.com for features and promotional inquiries