The New Kings Of Swing – Louis Prima Jr. & The Witnesses
To get an understanding of Louis Prima Jr. one needs to know a bit about his lineage. His father was swing / jazz great Louis Prima and his mother was Louis' female vocalist, Gia Maione who taught young Louis how to play drums at an early age. These days, when people hear the song "Just a Gigolo" they think it's a David Lee Roth song or that "Jump, Jive, and Wail" is a Brian Setzer & His Orchestra song. Wrong on both accounts! They are both Louis Prima songs which have stood the test of time! What is probably the most beloved song which Louis Sr. is known for is the song "I Wanna Be Like You" from the Disney classic, The Jungle Book. Louis Sr. was the voice of the human wannabe orangutan, King Louie. As you can see, Louis Prima Jr. has some influential history behind him.
Fast forward to present day where Louis Prima Jr. & The Witnesses shows are a mix of energy, fun, and most of all, great music! You will get a mix of old standards made famous by his father done with a bit of a modern flair which were captured in Louis Prima Jr.'s first release, "Return Of The Wildest". You will also get newer songs from their second release entitled "BLOW". These songs were written by various artists as well as Louis Prima Jr. and arranged by Louis himself. Sprinkled amongst these gems are covers of familiar pop songs such as Adam Ant's "Goody Two Shoes" and Chicago's 25 Or 6 To 4. Their third release is due in the first half of 2018 and surely it will be as great or better than its predecessors.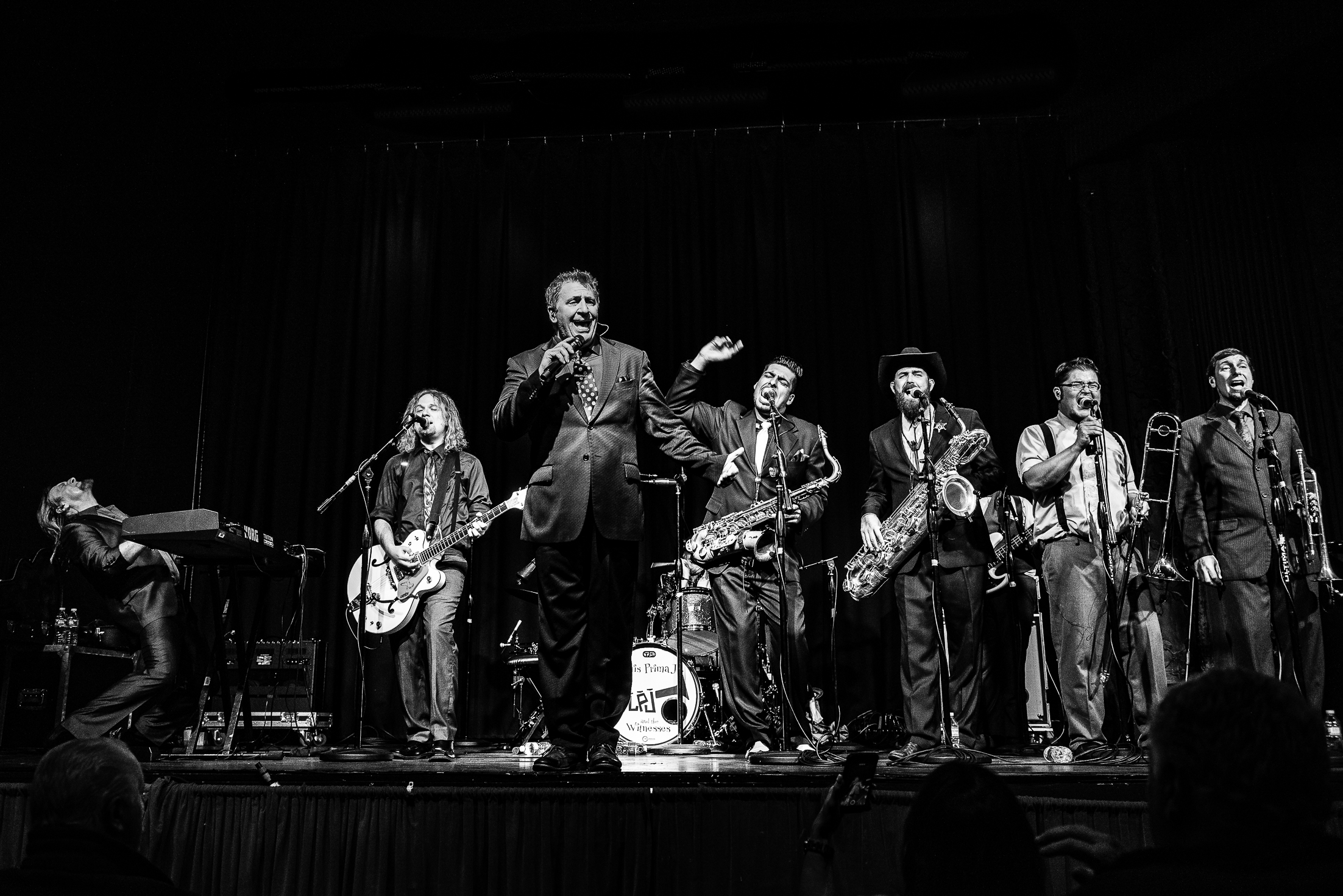 If you equate a swing band with a bunch of musicians sitting while the lead guy moves around a bit as in the days of Benny Goodman or Glenn Miller, this is not what you will see at a Louis Prima Jr. show. These cats get into their music as much as their fans do and rarely are they still. From Marco Palos dancing with his sax, to Ryan McKay back bending while wailing on his Gretsch White Falcon guitar, to Philip Clevinger doing a Russian Squat Dance while playing his trombone, there is never a dull moment! One is even treated to a dual drum attack when Louis joins drummer A.D. Adams on the drum kit during their rendition of Louis Sr's classic, "Sing, Sing, Sing". As trumpet player Ted Schumacher said, "We have fun doing what we do. We don't use a set list so that keeps things entertaining." If it keeps things entertaining for the band, you can imagine how entertaining it is for the audience! As a tip of their hat to New Orleans, the birthplace of both jazz and Louis Sr., Louis Jr and his band end their shows by marching through the audience playing their instruments as his father did with his band years before. Frequently audience members will follow along behind them to join in on the fun.
You can follow Louis Prima Jr & The Witnesses on their home page, http://louisprimajr.com If you get the chance, drive, take a train, or take a plane to go see Louis Prima Jr. & The Witnesses. You will not regret it! As Louis Jr. said, "The music is timeless. Prima music makes your foot tap and makes you smile"
 
Coverage by Rich Russo RP Russo Photography
For upcoming events and artists features, follow SoundBite Magazine on Instagram, Twitter, Facebook, and YouTube. If you would like to be feature your event, art, music, or company on SoundBite Magazine, please contact soundbitemag@gmail.com for features and promotional inquiries.
Images may not be used, modified, or cropped without permission from Rich Russo or SoundBite Magazine. Please contact Rich Russo or SoundBite Magazine for use of photography.