Animal Rights, Political Upheaval, and the Unrequited Love of The Great Fear
Through the injustices that are occurring in modern day society, filled by politics, explosive hypocrisy of establishment, South Florida's The Great Fear may be the answer to convey your sentiments in their revolutionary music.
Their enigmatic live shows differ from their illustrious recordings. Their music is a mixture of British and Alternative Rock. The group are inspired by the musical movement of the 1960's and 1970's. Also, they are influenced by the Beatles, Franz Ferdinand, David Bowie, and Neil Young (which you can hear them cover eloquently in their live performances.) Akin to these musical heroes, The Great Fear's storytelling music is insightful and reflective. "Every song stands for itself and each song is unique to each other," mentions founder, Mario, over a refreshing drink.
The leader of The Great Fear, Mario Bovines, is a South Florida songwriter and innovator. He previously played in a two piece group called Hitchens. In his musical journey, he became friends with pop singer, Martin Santos, from Mexico. Martin introduced him to the artists that would become his bandmates for the Great Fear. The band is composed of renowned musicians from diverse musical backgrounds. The talented musicians are studio musicians and collaborate with several other groups. The Great Fear is composed of Mario Vasquez, guitarist, Joche Garcia, guitarist, Octavio Mendoza, bassist, and Gerdts Gio Montanez, drummer.
Mario has been working on the release of his upcoming album. In six months, he wrote the music and produced them. He recorded the thirteen songs in Boston, Massachusetts. The album was mixed by Joche and mastered by Grammy Nominee producer, Mike Couzzi, (who has worked with The Rolling Stones and Rod Stewart.) Three songs from the album are part of the Great Fear's EP, "Christina" which are the self-titled track, "Christina," "We're at the door," and "Spring Time"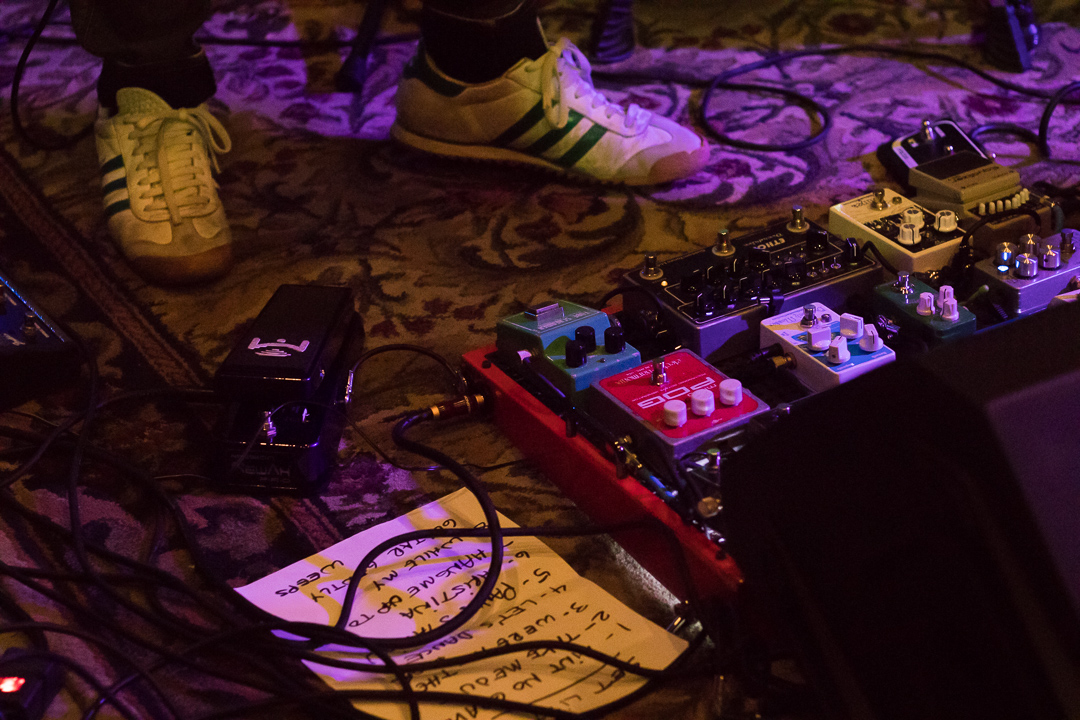 The insightful track, "Christina," is a reflective song about unrequited love. "You meet an awesome person and you do not see anything through. You meet people and things don't work out, it happens to us multiple times." Mario wrote this song about a previous co-worker that he had amazing chemistry with. Even though they were close friends, she was married at the time. The song came to Mario while on a trip to Italy, he heard a slow lounge song from the balcony from his room. The slow techno melody inspired him to create the melody of the whimsical track.
More than a casual love song, Mario typically writes about political matters. The political track, "Spring Time" discusses the issues of networking. "Faces you meet and you don't care about. People meet you to get something out of you," mentions Mario with strong disdain.
The heartfelt track, "We're at the door," is about a relationship ending. "In the lyric, "Back page news," You speak to a person about something exciting in the beginning of the relationship. But then you're not excited to share things in the relationship anymore. "I'm here at the door, where are you?" The song also references John Stenbeck's "Of Mice and Men."
Mario wrote most of the songs from the album during his trips to Alaska and Iceland. The eclectic nature placed him in the mindset of writing. He was inspired by the tranquil woods, blistering northern lights, and heartfelt solitude. "It was an ethereal experience. The songs I wrote were not just a song but they have something behind it."
Mario's project, The Great Fear," is raw and professional. Along with his musical endeavors, he works in politics and went to film school. He also majored in empirical Russian history and Medieval European History at the University of Miami. He was fascinated by the subject matter in regards to the end of royalty and breaking away from society's norms. The historical topics and life experiences inspired him to write the track, "Hang for treason," which discuses a false preacher, a person that manipulates someone's faith for monetary gain.
An interesting fact of the Great Fear is their strong passion and devotion to animal rights. "Animal rights are extremely important to me. Imagine that you put your mind in the mind of an animal," states Mario with a cordial swig of his drink. The proceeds from the EP and upcoming album go to the ASPCA. This noble and inquistive artist is currently working on the release of their album and organizing acoustic shows. Follow The Great Fear for upcoming tour dates, news, and further information. Listen and purchase their music online at: https://thegreatfearband.com.
For upcoming events and artists features, follow SoundBite Magazine on Instagram, Twitter, Facebook, and YouTube. If you or your company would like to be featured on SoundBite Magazine, please contact soundbitemag@gmail.com for features and promotional inquiries.
Featured photography by Ron Navarrette.
Images may not be used, modified, or cropped without permission from The Great Fear, Ron Navarrette or SoundBite Magazine. Please contact The Great Fear, Ron Navarrette or SoundBite Magazine for use of photos.